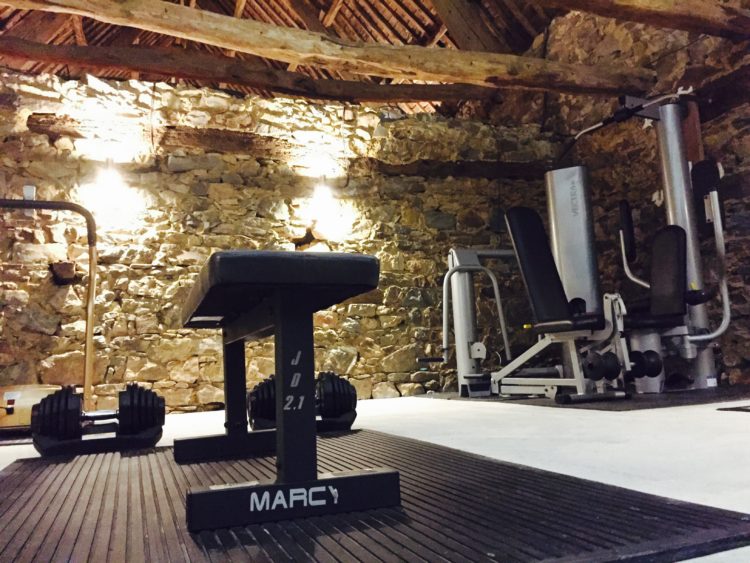 We are delighted to be able to offer all of our guests full use of the new Gym, located in the main 15th Century barn with all its stunning beams and delightful stone work which has just been lovingly restored & renovated and is situated next door to the Bar-n and just a few steps from the main Farmhouse, at Les Clos.
So if you fancy a workout followed by a nice cold freshly-pulled pint of draft beer then you have come to the right place!  Alternately you might prefer to cool off after your workout by taking a swim in the swim-spa or perhaps relaxing in the hot tub with a nice glass of sparking Breton cider or as a healthy alternative, some sweet thirst quenching apple juice!
You really get a feeling of stepping through time as you enter the gym through the original 15th Century massive wooden door located underneath the growing grape vines & vibrant purple wisteria which have made their home happily on the outside walls of the stunning stone barn for many years.
The gym contains everything you could wish for a full and enjoyable work out including a multi-functional workout bench, vibration plate, yoga mat, plenty of free weights and of course the all important treadmill with a view over the beautiful private gardens and orchards!
If you still have energy after your workout, you could always jump on one of the free bikes and pop into the local village of Plenee Jugon to pick up your delicious French breakfast with a wide choice of freshly baked baguettes, pastries, croissants and of course the delicous pain au chocolat!
If you like keeping fit then I'm sure you will enjoy making the most of this private luxury gym at your very own French holiday let in the heart of Brittany and in the district of Dinan, which oozes both character and charm.
Having 24 hour access to come and go as you please is a real bonus when you are on holiday, so there is no excuse to not fit in a bit of exercise in your daily routine, although perhaps 'being on holiday' could work as a good excuse if you do fancy a day off…or two!