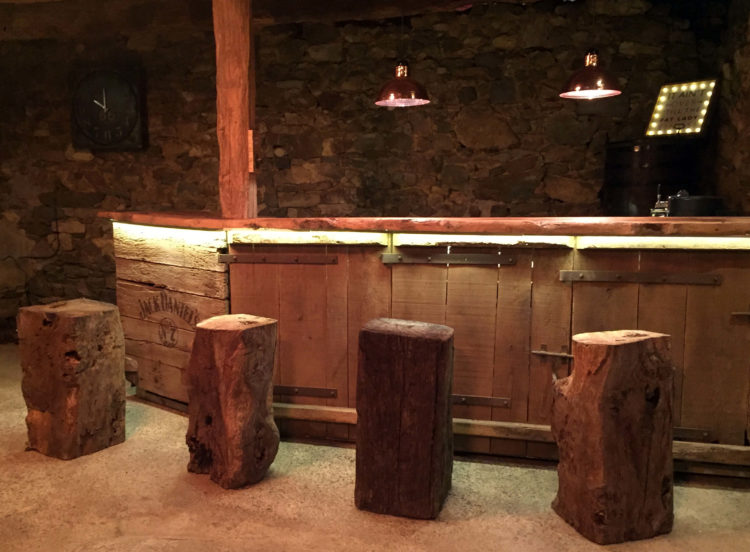 After months of planning and a fair bit of hard graft we were delighted to be able to launch the Bar-n!  Its an ideal place for a family celebration or gathering of friends – anything from a Special Birthday, Wedding Anniversary, Hen Party, Stag do or even the Wedding itself can now be celebrated from this incredibly charming space!
The Bar-n was, until recently, a rather sorry looking derelict 15th Century Barn, located next to the Farmhouse. Historically though it had many functions. Originally it was built for Monsieur Le Clos, a founding member of the knights of Malta which later became the Knights Templar!  We also understand that at some point in time there must have been a very important wedding take place in the Barn as there are special "his and hers" intricate carvings which sit either side of the original 2 story stone fireplace.
More recently the Barn was used as a cow and pig barn when Le Clos operated as a Farm, the front of the bar is in fact made out of the original doors from the pig sty's and the cow troughs have been turned into comfortable social seating areas around the room, with side tables made out of the tops of cider barrels all of which were found in the old ruins of the barn.  The remains of the cow chains are still intact as we felt that they added to the character and provide a little reminder of the history of this incredible building.
The lighting above the pool table is made out of an original piece of farm equipment thought to date back several hundred years and the feature wall decorations are cider press wheels which were also found amongst the stored hay in the attic space during the renovation process.
The bar itself is fitted with a wine fridge, ice maker, Beertender machine to enjoy cool fresh draft beer and is of course stocked with plenty of glasses. There is also a full size pool table, karaoke machine, safe darts and a football/games table.
The mezzanine area reached by the modern spiral staircase provides a lovely cosy area to relax in or catch up with friends/family. Here you can take in the wonder of the original 15th Century beams accentuated by the use of up/down lights which highlight some of the stunning woodwork and original craftsmanship.
As well as the modern wood burner that has been located in the original stone fireplace, there are also 2 large pendant heaters to ensure that the Bar-n can be enjoyed all year round. The ambience in the winter months with the crackling log fire and sound of the birds tweeting can't help but make you feel warm, cosy and relaxed.
Should you wish to celebrate your special occasion at the Bar-n, please do not hesitate to contact us for a quote. For larger events we can also help with marquee hire, catering, flowers, cake, etc.