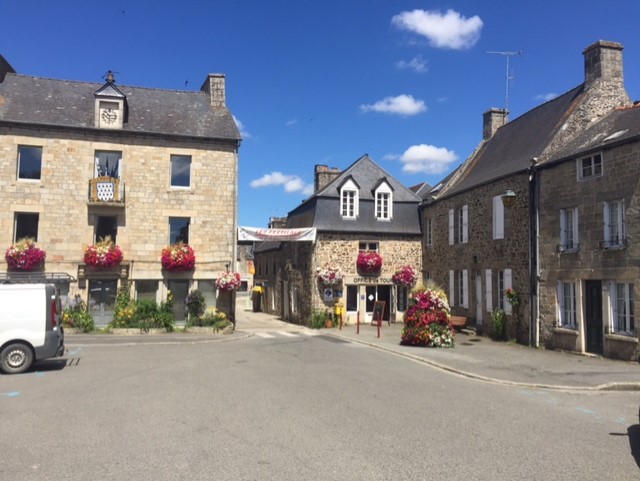 Jugon Les Lacs is a wonderful place to spend time with family and friends, you can enjoy a fabulous meal, go shopping in the arts and craft, charity and food shops, stroll around the back streets with the quaint little streams and historic stone buildings, take part in some water sports, go fishing on the lake or simply have a day of relaxation.
There is so much to offer in Jugon Les Lacs and perhaps one of the best places to start is the very helpful Jugon Les Lacs Tourist Office where you will find up to date information about whats on in the area during your stay and the staff who speak very good English could not be more helpful. It also has a free WiFi point!
There are some great restaurants on offer in Jugon Les Lacs and below are a couple of our favourites which we recommend to our guests, you will also find them open on a Sunday which is a rare treat in France:
Le Donatello – Both the food and service here are top class, the staff are so friendly and speak good English. It offers both indoor and outdoor seating under a large parasol as you will find with many of the restaurants in Jugon. You can order from the full menu or from the set menu which is a great choice and excellent value for money. The pasta, pizza, steak and salads here are exceptional and its always a firm favourite with our family. The desserts and in particular the creme brûlée and tiramisu are simply divine!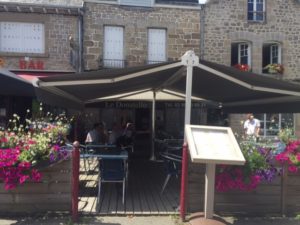 L'Elysarose – This Creperie is also located in the main central square in Jugon Les Lacs. The galettes and crepes here are absolutely delicious. The crepes are made using organic milk and flour. There is so much choice on offer.  I would recommend the goats cheese, pear and honey galette followed by a salted caramel crepe with homemade caramel ice cream, complemented of course with a glass of sparkling Breton Cider – yummy! Its great for Children with the Nutella crepes being very popular. They also offer a menu de jour (set menu) which is great value as are the omelettes. Gluten free meals are also available here.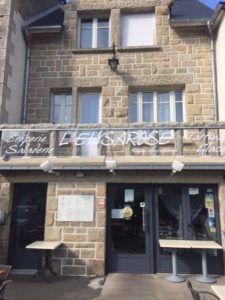 A visit to Jugon Les Lacs wouldn't be complete without a visit to the Artiz'Artistes shop, this pretty little boutique shop sells a selection of  beautifully designed handmade gifts created by local craftsmen and artisans. It is located in the main square next door to the La Donatello's and opposite the Tourist office.
The Station Sports Nature located right next to the lake and by the little beach and park areas is a great place to visit if you are interested in getting involved is some of the various water sports on offer. From here you can hire Pedalo's, arrange to go Sailing and Kayaking, take Canoe lessons, have a go at Archery, organise to go Orienteering and even hire Mountain Bikes. All the activities are supervised by qualified staff and life jackets are provided.
The Aqua Park – AQUA'LAC PARADISE is great fun for both small and big kids, there is a large indoor heated pool with several water slides, tube water slides with lighting effects and also a smaller area for younger children with slides, water games and a big bucket that fills and tips every so often. The outside area offers stunning views over the lake from the heated pool and waterslide. It is open between April – October.
It is also worth visiting the Maison Pêche et Nature, here you can find out about fishing and using local techniques as well as learning about the local fish and bird populations in the fascinating exhibition.  You can also find out about outdoor activities, boat rental and not forgetting the fun of fishing in Float Tubes!
Fishing in the Arguenon lake is very popular and you can find more information on this in my previous blog post Fishing at Jugon Les Lacs.