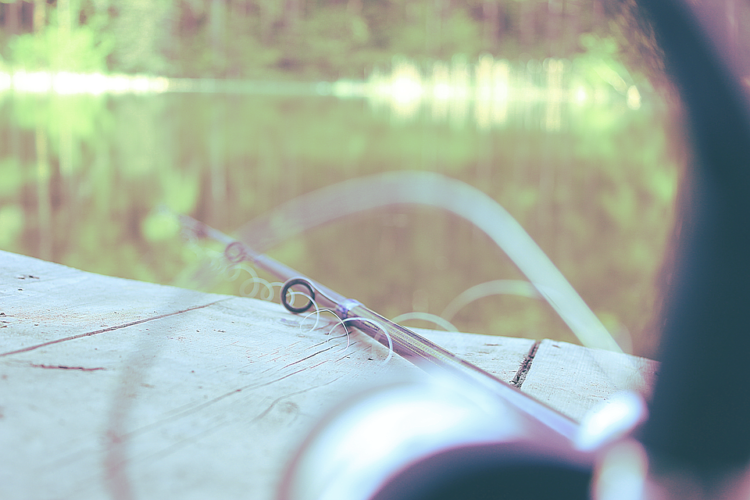 As well as being a beautiful 'must see' place to visit during any trip to Brittany, Jugon is often refereed to as being like an oasis in a sea of greenery, its a stunning architectural heritage site well worth a visit!
Jugon-les-Lacs designated a 'City of Character' is also famous for its abundant fishing lake with almost 150 acres of water. The lake is fed from several rivers including the Rosette. The main fish species abundant in the lake include large Carp and Pike, Perch, Zander, Bream, Roach, White Fish and also Black Bass. Due to the shallow edges of the lake they can be easily fished.
Jugon Lake offers fantastic fishing for professionals and beginners alike with many different types of fishing to be enjoyed from Trout and Carp fishing to Predator Fishing. You can rent boats and fishing equipment from The Maison Pêche et Natureor or simply fish from one of the peaceful pontoons, accessible to all with a permit from the Maison Peche.
The Carpodrome Boardwalk is a great place to fish especially with Children or if you only have a short amount of time as the pond is stocked with over 800kg of Carp, White Fish and Tench meaning that due to the abundance of fish, a catch is pretty much guaranteed! Great for keeping the little ones excited and interested.  This area of the lake is limited to 8 fishermen and open every day except Thursdays, when it is closed for maintenance. It is a good idea to reserve a space here as it can be popular, especially in the summer months – reservations can be made to the House Fisheries and Nature Côtes d'Armor in Jugon-les-Lacs http://www.maisonpechenature.com or by calling at 00 332 9650 6004.
Another exciting way of fishing at Jugon Les Lacs is in one of the new float tubes, described as being a bit like a floating arm chair, so you can relax and fish safely from the centre of the lake, for more information, check out this site .
For more information on fun fishing with the kids and other fun days out in the area for the whole family, take a look at my previous blog.
For those enthusiastic Carp lovers, night fishing is also permitted at Jugon Lake. So bring along your hot flask and torchlight and settle down for an evening of peace & connection with nature.
If you head north of Jugon, you will find the Arguenon River which offers over 200 acres of fishing water, with many white fish species, carp weighing over 20 kilos, plus a large population of predator fish such as Pike, Perch and Zander.