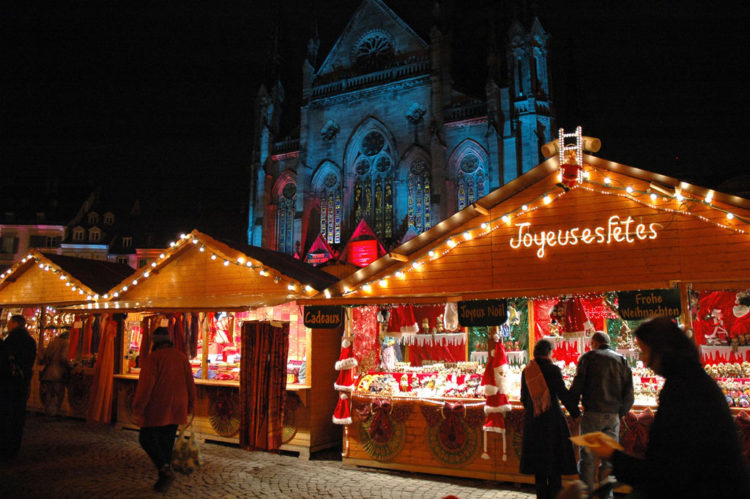 Christmas markets are a great way to enjoy the seasons festivities and where better to experience the feelings of festive cheer than an enchanting French Christmas market based in a stunning medieval town. They are a great place to pick up some unusual Christmas gifts whist enjoying some splendid gastronomic delights.
Rennes, the capital of Brittany is a very popular place to visit particularly at Christmas time. The Rennes Christmas market also known as the Marche de Noel runs from the 25th November right through to Christmas Day. It is located in what is considered to be the most picturesque part of the City, right in front of the 17th Century Parlement de Bretagne by the old historic part of the City.
Here the streets are adorned with authentic wooden chalets and the most incredible festive lights, whilst the smell of spices fills the air. You can pick up some fantastic Christmas presents from the selection of items on offer including many hand crafted pieces, jewelry, wooden children's toys and french lace scarves whilst enjoying performances from many local acts and sipping your warm mulled wine.
The Christmas Markets in St Malo are open from the 16th -31st December and are extremely impressive and take place within the beautiful medieval setting at the foot of St Malo's Chateaux.
Here a winter wonderland village awaits you, with an abundance of local crafts, traditional Christmas gifts and artisan hand made pieces for sale as well as some magical street performances and christmas carol signing to entertain you and not forgetting an appearance from the man himself, Santa!
The streets are filled with illuminated Christmas Trees & sparkling lights as well as the smell of gingerbread men, hot chestnuts and cinnamon pretzels all
You may also want to take a trip to Dinan to take in the most stunning Christmas lights display imaginable, here the cobbled streets, roads and pavements are adorned with dazzling illuminations of all festive shapes and sizes. Dinan really is an idillic place to visit during the festive period with an abundance of incredible restaurants and creperies offering their culinary delights. Don't forget to book restaurants in advance as its extremely popular year round and especially at Christmas time!
If you fancy a Festive break then why not treat yourself to a stay at our luxury Farmhouse, located in the heart of the Breton Countryside and just a 40 minute drive from both St Malo and Rennes and just 25 minutes to Dinan.
We are currently offering a 20% discount for bookings made in December, so please feel free to contact us direct for a quote.